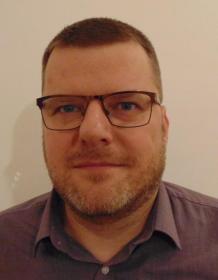 E-mail
peter.halama@truni.sk
Konzultačné hodiny
počas semestra utorok 14.30-16.00, mimo semestra podľa dohod
Focused on: psychology of personality, psychometrics, meaning in life, psychology of religion
Memberships:
Slovak psychological society
Board of The Institute of Psychology of Academy of Science of Czech Republic
Scientific board of Faculty of Philosophy and Arts, University of Trnava
Scientific board of Faculty of Faculty of Social and Economic Sciences, Comenius University
Scientific board of Research Institute for Child Psychology and Pathopsychology
European Association of Personality Psychology
International Association for Psychology of Religion
Board of Assessment, European Federation of Psychological Associations
Important publications:
Halama, P. Zmysel života z pohľadu psychológie. Bratislava, Slovak Academic Press, 2007, ISBN 978-80-8095-023-1.
Halama, P.: Meaning in Life and Coping: Sense of Meaning as a Buffer Against Stress. In: Batthyany, A., Russo-Netzer, P. (Eds.) Meaning in Positive and Existential Psychology. - New York: Springer, 2014, s. 239-250. ISBN 978-1-4939-0307-8.
Halama, P. (2015) Maintaining meaning in life in old age: Personality and social factors. In: Blatný, M. (Ed.) Personality and well-being across the life-span (pp. 160-178). London, Palgrave McMillan. ISBN 978-1-137-43995-6.

 

Halama, P. (2015) Empirical approach to typology of religious conversion. Pastoral Psychology, 64, 2, 185-194.
Teaching:
Psychology of personality
Theory of Psychodiagnostics and Psychometrics
Psychology of Religion
Selected Chapters in Psychometrics
Personal webpage